Carpet Buying Secrets Revealed
Want To Choose New Carpet Wisely? Everyone wants a carpet that's soft, beautiful and resists stains, but the Carpet and Padding you select must also be able to tolerate your own unique level of foot-traffic you have in your home or your new carpet will not last as long as you expect.

The last thing you want is new carpet that mats down quickly. Remember Goldilocks and the Three Bears? There were three different types of porridge, chairs and beds but only one of each was the right choice for her. You need to make sure you choose the right grade of Carpet, Padding and Installation that's right for you.
Do You Have Heavy Foot-Traffic in Your Home?
If you want to choose the right carpet for your needs, you first need to determine the level of foot traffic you have in your home and second, you must decide how long you want your new carpet to last. The answers to these two questions will determine what grade of carpet you need to buy.
To avoid making costly carpet buying mistakes, start by taking my free Carpet Foot-Traffic Test. It is a quick and easy 6-question test that reveals your level of foot traffic based on your needs, goals and lifestyle.
Carpet Cost

If you haven't checked carpet prices in a few years, you'll be shocked when you see the
current cost for a good quality carpet and padding.
Best Carpet
Near Me?

Ten years ago, a medium quality carpet, with pad and installation, used to run about $35 a square yard. Now that same quality is over $50. A medium grade Carpet for a typical 2 bedroom home now averages $5700 with pad and installation.
Carpet Remnants are one of the best kept secrets in the carpet business. Few homeowners know that they can enjoy new carpet at a fraction of the typical cost for new carpet. The trick is knowing how to choose carpet remnants wisely. What are Carpet Remnants? How To Choose Carpet Remnants Wisely
Padding Prices
A decent 6-pound Rebond Pad used to cost about $3 a yard. Now it's about $5. Most carpet makers now recommend using 8-pound density padding. Types of Carpet Padding
Carpet Installation Fees and Charges
It was once common to pay $3 to $5 a yard for qualified carpet installation. Now you can expect to pay $5 to $8 or more depending on where you live and the grade and style of carpet you select. Carpet Installation Cost Fees Charges
Carpet Installation - This is one area where you should never skimp! How to Find a Qualified Carpet Installer.
Shocked by the high cost for qualified carpet installation? Wait till you discover the cost of hiring a lousy carpet installer! Tempted by those TV ads offering free carpet installation? Big Box Carpet Installation Specials Exposed
1. Want to make wise and informed choices? Visit my Sitemap to see all my free articles.
2. Take my free Carpet Foot-Traffic Test. Discover what Grade of Carpet is right for you.
3. Print my Carpet Shopping Form Use it to compare and narrow-down your final selections.
4. Take my Carpet Buying Quiz. How much do you know about carpet? This is eye opening.
Free Carpet Buying Checklist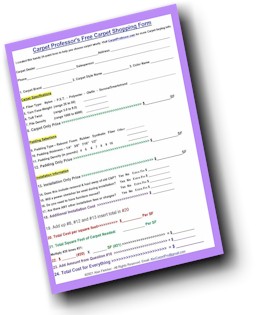 Learn what you need to do before, during and after you have new Carpet installed in your home.
Print out my Free carpet buying Checklist,
(Click on the image to view or print my free checklist)
Carpet at Home Depot or Lowe's?
Don't Fall For Any Misleading TV Commercials offering new carpet and installation at ridiculously low prices! If the price sounds too good to be true...
Let me show you how to quickly spot common retail Carpet Scams and how to make wise and informed Carpet Choices! Learn more Free Carpet Installation Specials Exposed
Stainmaster® Brand Update
The Stainmaster carpet brand, well-known for it's durable and stain resistant Nylon 6,6 fiber, was recently purchased by Lowe's.
However, the exact same fiber known as Antron® Nylon 6,6 is still available at most local carpet stores under a different brand or in an unbranded form.
It's the exact same fiber, but it just doesn't have the Stainmaster® brand name attached to it. Ask Your Local Carpet Store about Carpet they carry made with the Antron® Nylon 6,6 Fiber.

Pushy Salespeople
Unscrupulous carpet retailers often hire salespeople who will say or do just about anything to convince you to buy from them.
Many of these salespeople know very little about carpet or the products they sell. They are hired because they are good at closing the sale. That means they won't take NO for an answer and keep pressuring you to buy right now.
This is another reason why I created my own special list of locally-owned carpet and flooring stores. Don't let obnoxious salespeople push you around!
Carpet Measuring Experience?
An experienced estimator can save you money by strategically making the best use of material waste. They can figure out smart ways to utilize leftover carpet from one room and use it to fill in an area in another room. This saves you money! See my list of Recommended Carpet Dealers to help make sure your home is measured accurately.
Choosing the Right Carpet Fiber
Nylon is the most durable synthetic fiber available today. Beware of Carpet Retailers or Salespeople who recommend you buy carpet made from Polyester or P.E.T. Polyester and say it is "just as durable" as a carpet made from Nylon.
Carpets made from Polyester tend to mat down very quickly in medium to heavy traffic applications, especially in main walkways, hallways and on stairs. Learn more about Carpet Fibers

Too many homeowners...
1. Choose The Wrong Grade of Carpet...
Carpet that can't meet their needs or goals.
2. Pay Too Much for Materials & Labor...
Because they don't get at least 3 free bids.
3. Have Carpet Installed Improperly...
Because they don't buy from a reputable dealer.
4. Void The New Carpet Warranty...
Because they don't maintain their carpet as required.

"You should never rely solely on any one salesperson to make all your carpet and padding choices for you. If your new carpet does not perform as expected, you cannot go back and blame the salesperson for giving you bad or misleading advice."
Inexperienced Carpet Salespeople?
Too many carpet salespeople lack sufficient "hands-on" carpet experience or don't have enough product knowledge to know what grade of carpet is able to meet your needs, goals and lifestyle.
You don't want to rely on their advice or suggestions. You need to do your own research and NOT rely on any one salesperson to make your carpet and padding choices for you!
Unfortunately there are also plenty of unscrupulous carpet salespeople who are hoping to overcharge you by using sneaky sales tactics, deceptive advertising gimmicks, bait & switch tricks and literally dozens of other common retail carpet scams!
How To Measure Carpet Yourself!
Many homeowners are overcharged for Carpet, Padding and Labor! If you get three carpet estimates from three different carpet dealers, I guarantee you will get three different estimates for the amount of material your home requires and the total cost to get the job done. This is because every estimator measures differently.
"Some salespeople over-measure intentionally while other salespeople over-measure
because they are inexperienced at the art of carpet measuring."
Not quite sure if the salesperson's measurements are accurate? It is always wise to get at least three estimates from local carpet stores. Then you can compare prices and measurements side by side and make wise and informed choices. Learn How to Measure for Carpet Yourself!
Carpet Measuring Scams?
Some Salespeople Just Lack Measuring Experience. It can take several years for anyone to become proficient at measuring your home for carpet. Salespeople who are new to the carpet business may not be very accurate at measuring and that could cost you plenty.
There are several steps you can take to make sure you don't become a victim of a carpet measuring scam or rip-off. Getting three free quotes from local carpet stores is one way to be able to compare products, services, measurements and prices side by side. See my Recommended Dealers
Shocked By High Carpet Prices?
Revise Your Carpet Budget! Carpet is more expensive then most homeowners realize. When you finally add up all the costs for materials and labor it can easily give you a severe case of sticker shock. Take my free Carpet Foot-Traffic Test to see where you stand.
Choosing the Right Grade of Carpet?
It's not like it was 50 years ago when choices were very limited and most carpets were made to last a lifetime. Today there are thousands of different grades, styles and quality levels to choose from. Some carpets are designed to wear out in less than 5 years, some are designed to take a beating and last for 20 years or more.
Why do some Carpets last longer than others? It all depends on the materials they use to manufacture the carpet! Most important is choosing the right carpet fiber to meet your needs and goals!
FREE Carpet Durability Guide
All carpets look great and feel fabulous when they are new! But will it still look good in 5 years? Will it hold up to your level of foot traffic?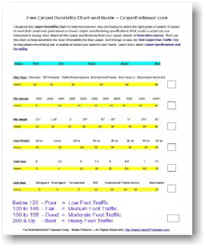 It's not easy to tell if a carpet you are considering is durable enough for your home. Is the quality good, better or best? You can't tell just by looking at it or feeling it with your hand. Carpet specifications reveal the truth about carpet durability.
Print and use my free Carpet Durability Guide It will help you determine the durability of any carpet you are considering, based on the manufacturers specs.
Everyone wants to enjoy a carpet that is soft and plush! Just because a carpet feels soft does not mean it's durable or able to tolerate YOUR level of foot traffic.
If you want carpet that will last a long long time, you need to select a carpet made from the most durable materials! You need to understand what makes one carpet more durable than another. Learning about Carpet Specifications is the key to your success!
There are Five (5) "Key Carpet Specifications" you need to consider carefully. Learn more: Carpet Specifications Explained
Carpet Padding: Don't Skimp on Pad!
You don't ever see it, but carpet padding does a very important job. It is the shock-absorber for your carpet. It helps reduce the damaging effects of abrasion.
Your Carpet Quality Must Match Your Padding Quality. It's real easy to select the wrong grade, type, thickness or density of padding. Learn more Types of Carpet Padding
Unnecessary Padding Upgrades?
Don't be easily swayed by any salesperson who says you need to spend more for an upgraded pad or Specialized Carpet Pad. Read more about Choosing the Right Carpet Pad
Key To Carpet Success
Not only must you hire a qualified carpet installer, you must also choose the right grade of carpet and padding too. Just as important is making sure you buy from an honest and reputable carpet and flooring dealer. That's how to buy new carpet like a pro! See who I recommend near you.