Carpet Installation Cost - Fees and Charges
©2022 Alan Fletcher - Consumer Advocate
Free Carpet Installation Specials?
Carpet Installation Cost, Fees & Charges can vary greatly depending on your Geographical Location; How Difficult Your Job is; The Grade of Carpet You Select; The Style of Carpet You Select, and the Cost to prepare your home for installation of new carpet.
Want the scoop on various types of low-cost advertised Carpet Installation Specials? Learn more: Big Box Carpet Installation Specials .
Here's what homeowners need to know...
Carpet Installation Costs, Fees and Charges - Nationwide
In different parts of the United States, the current prices for Carpet Installation vary higher or lower depending on the current supply and demand in your area. Right now is a good time to buy new carpet because installation costs are still lower due to the reduced amount of consumer spending on basic home improvements.
Home sales are up since January of 2021 and homeowners are buying new cars in record numbers... and I think carpet installation prices will be steadily increasing from now through 2021 and beyond.
Currently, in the Southern states where the sun is always shining and the water is warm, there is much more competition for jobs and carpet installation prices are typically much lower than in the northern states.
For example, in Miami, Florida you can have carpet installed for less than $3.00 per yard if you shop the service directories of the local newspapers. I'm not saying hiring blindly from the service directory would get you a qualified install, but right now there are plenty of hungry carpet layers in the state of Florida who are willing to work very hard for very little money.
Making sure your carpet installer is qualified is your responsibility. Don't assume that every carpet installer is qualified to install your carpet. In fact, I firmly believe that less than 35% of all carpet installers are properly trained.
Asking for references and making sure they are licensed, bonded (if required by your state) and insured (business liability) is your responsibility.
Read more about: How To Find a Qualified Carpet Installer
Plan to Hire an Independent Carpet Installer?
How to Verify a Contractor's License
The states with the lowest carpet installation costs have typically been Florida, Texas and New Mexico. Other southern states like Louisiana, Oklahoma, Mississippi, Arkansas and Southern Arizona have fairly inexpensive carpet labor and installation costs too.
Prices will range from $3.25 per yard to $5.50 per yard depending on the difficulty of the job and the carpet selected. Berber style carpets are generally more costly to install because they are more difficult to handle, cut and seam. How to Choose Berber Carpet Wisely
The highest carpet installation prices are in the Northeastern states like New York, Virginia, Massachusetts and Ohio and also in the Pacific Northwest like Oregon and Washington and Northern California.
Prices may range from $4.50 per yard for a medium grade plush style carpet to $8.50 per yard for a heavy duty looped Berber style carpet.
How to reduce your carpet installation costs, fees and charges.
In our current economy, there are less carpet installers out there hungry for work than there was a year or two ago. You can still find a good deal on carpet installation if you are willing to do a little legwork and locate a qualified carpet installer and negotiate a good deal.
If you are willing to be flexible with the date and time of installation and are willing to pay cash at the end of the day, you might get a better deal still. Some installers are willing to work nights and weekends to make extra money, especially when it doesn't conflict with their commitment to the retail dealers where they are hired to install Monday through Friday.
If you have a little ambition, I think you might be able to negotiate as much as 10 to 25% off their normal carpet installation charge, especially if you are willing to pay them in cash at the end of the day. (But always get a detailed written receipt and insist on at least a full 1-year written warranty)
You never want to sacrifice quality installation in exchange for a discount on price, so be sure you make it clear that you expect a first class job, even if they agree to do the job for less than their usual charge.
Carpet Buying Information FYI:
"Looped Berber Carpets are much more difficult to install than other styles and the installation cost may be as much as $2 per yard higher than a standard plush-style carpet.
Selecting a Patterned Carpet Style may also increase the installation cost as well as increase the amount of Carpet material needed to complete the job."
Learn more about Carpet Styles
Most Retailers Bundle the Cost for Carpet, Padding and Installation.
To get your best TOTAL carpet deal, you will have to negotiate with the carpet dealers of your choice and not be afraid to ask the retailer for a discount or other incentives for you to buy from them. The smart homeowner always gets at least three bids/estimates and then takes plenty of time to negotiate a better deal. Patience is key here, and those who wait for the price to come down are the winners. Be sure you are comparing apples to apples! You can't compare a Polyester carpet to a Nylon carpet.
Learn how to Compare Carpet Fibers
I think that asking for a minimum of a 10% to 15% discount is very reasonable as long as you are ready to write a check at the end of the day. If you are daring, ask for a 20% discount and see what happens. They may say no, but you have nothing to lose by asking. Just be sure you have selected the right carpet and padding that will meet your needs and goals! Take my free Carpet Foot Traffic Test to see what grade of carpet you need to buy.
Carpet Installation Cost - Getting the job done right!
The main thing you want to be sure of, is that the carpet installers are qualified and experienced with the type of carpet and job you are doing, and that they will use a power-stretcher to install your carpet.
Gone are the days where a simple knee-kicker will do the trick unless you're installing cheap carpet in a very small room on a very hot day. Carpet needs to be stretched in tight, and the only way to ensure this is to use a power-stretcher.
If they don't use a power-stretcher, then find an installer who does!
Carpet Installation Scams and Padding Choices
Some carpet retailers choose to make additional profit by adding an extra fee or surcharge on top of the standard going rate for carpet installation charges, often adding as much as 25% to the total installation cost. I feel this is an unfair charge to the consumer and the installer.
Carpet retailers already make a fair and reasonable profit from the markup on carpet and pad. If you find that a carpet dealer has exorbitant installation charges, I suggest you shop elsewhere!
Carpet Installation Cost - Basic Carpet Installation
Some Big-Box home improvement stores like Lowe's and Home Depot advertise super low-cost specials for carpet installation. These super-duper specials sound too good to be true. Just $99 for a whole-house carpet installation sounds like a great deal when you first hear about it, but in the end, is it really as good as it sounds?
Maybe you should ask, who is doing the installation? Are they qualified? What if you are not satisfied with the installation? How do you get a quick remedy? Who do you call? You should be wary. The list of Home Depot and Lowe's carpet installation complaints is long.
Home Depot and Lowe's Basic Carpet Installation?
Home Depot and Lowe's frequently change their advertised price for a "basic" carpet installation. Sometimes it's $99, sometimes it's $39, sometimes it's free. How do you think they can afford to install new carpet in your home for free? The contracted carpet installers surely don't work for free. The average charge for installing new carpet in your entire home could easily exceed $1000.
I have found that Home Depot and Lowe's basic carpet installation service does not cover very much ground. The key word here is "basic" What is a basic installation? What is their definition of a "basic carpet installation?
Apparently, if your carpet installation job is not considered "Basic" and is determined to be more difficult or more involved, then you may find that the added cost for your carpet installation is much more than you expected. Don't assume that their advertised low cost for carpet installation is what you will end up paying.
Before your new carpet is installed, you may be faced with a sizable and unexpected bill for extra fees and services that are beyond Home Depot and Lowe's limited definition of a "Basic Carpet Installation".
About Carpet Sales Gimmicks:
I've been in the carpet business for 3 decades and I've seen every trick in the book. Trust me on this: Don't fall for any "wow factor" sales gimmicks. Don't trust any television ad that says if you buy one room of flooring then they will give you two rooms of flooring for free.
Don't be so gullible. Their fine-print will beat you every time and you will not get the great deal you hoped for. You need to be absolutely sure your new carpet has been installed properly. You cannot afford to take chances by having your expensive new carpet installed cheaply by a third party.
Let me ask you a very serious question.
"If you pay just $99 for whole-house carpet installation from Lowe's or Home Depot, and you are not satisfied with the final outcome, how much would your refund be?" A refund of $99.00? Then you would need to hire another carpet installer to try to fix the problem. How much do you think that is going to cost you?
If you want to get the scoop on new carpet installation specials and other common carpet sales gimmicks, learn more about carpet installation costs: Big Box Carpet Installation Specials

Carpet Installation Cost - Removing your old Carpet and Padding Yourself
Tearing out and disposing of the old carpet and padding can cost anywhere from $1.00 to $3.00 per yard or more. An experienced Carpet Installation crew of three can remove 100 yards of carpet and pad in less than an hour on a normal job.
I personally think $2.00 per yard is a fair price to remove the old carpet and padding because most Carpet Retailers have a large dumpster available for their installers to use free of charge. However, I think a reasonable dump fee is a fair charge if the installer you hire has to haul your old carpet and pad to a landfill or recycling center.
It takes quite a bit of time and energy to do that and local dump fees have been on the rise. Installers may charge a dump fee of $50 to $125 depending on how much old carpet and pad you have to haul away.
Carpet Installation Costs for Mobile Homes
If you need new carpet for a mobile home, there is going to be some added costs to remove the old carpet and pad if it is the original carpet. When mobile homes are made, they put down the carpet and then install the walls right down on top of the carpet and padding.
This makes it very hard to remove the old carpet because the old carpet has to be cut away at the base of all the walls and then new tackless strips must be installed. It takes much more time to do the job right.
Most carpet installers do not like installing new carpet in mobile homes because the outer walls are not sturdy enough to leverage the foot of a power stretcher. This means using other more time consuming methods to get the carpet stretched in properly.
Floor repairs are also more difficult to perform because mobile homes are built over a metal frame, not the standard 16" on-center wooden floor joists that most homes utilize. Expect to pay more if you need any floor repairs done.
Installing New Tackless Strips
All new construction jobs will require that new tack strips be installed. It's easier to install tackless strips on a wood floor than on a concrete slab. The fee for new tack strips on wood might be an additional .50 to 1.00 per yard. The fee for installing tack strips over concrete might be an additional $1.50 to $2.50 per yard or more.
In existing homes with damaged tack strips that need to be replaced, the fee should be about $2.00 to $3.00 per each four-foot section that must be replaced. (tackless strips come in 4' foot lengths)
What are Carpet Tackless (aka tack-less strips) Strips?
Tackless strips (often called tackstrip) are wooden strips with sharp pins that are installed all around the perimeter of each room near to the walls. Tackless strips are about 1" wide and 4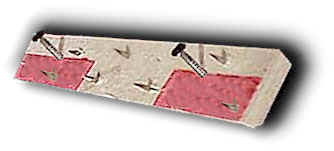 feet long. These tackless strips are what hold your carpet to the floor and allow it to be stretched-in tightly to prevent wrinkles. The sharp pins hold the carpet tight because they are angled towards the wall. They are nailed down to the floor. The carpet padding is butted up against the inner side of the strips. The carpet goes over the pad and stretched over the top of the tackless strips. Then the raw edge of the carpet is tucked into the wall and floor crevice or underneath the wall molding for a nice finished look.
Carpet Transitions and Thresholds
The raw edge of the carpet will eventually end or butt up to another carpet or other types of flooring at the entry doorways and at kitchens, baths and utility rooms and must have a transition installed of some type. Examples are: Carpet to carpet, Carpet to vinyl, carpet to hardwoods, carpet to vinyl tiles, and carpet to ceramic tile are some of the most common locations where a transition or threshold of some type will be necessary.
When one carpet meets another carpet in a doorway, the two carpets may be seamed together directly underneath the door if doesn't look too unsightly, and as long as there is only a small height variance between the two carpets. You shouldn't seam together a low-pile carpet with a high-profile carpet. Not only would it look bad, it could cause excessive wear on one side of the seam. Consult your estimator or installer to discuss all your options.
Transitions can be made of wood, metal, rubber or plastic. Each transition is available in different quality levels depending on the application. The correct transition must be used to ensure a long life without failing. The cost of transitions vary widely and should be discussed with your carpet estimator/retailer/installer before the bid final is drawn up.
The least costly transitions are generally priced at $2.00 to $3.00 per lineal foot and are commonly gold or silver aluminum metals. A rubber transition in a utilitarian application should cost about $3-$5 per lineal foot. A transition of pre-finished hardwoods can easily cost $5 to $20 per foot lineal or more. Brass or other specialized transitions can be quite costly.
How To Select The Correct Carpet Padding