Free Carpet Information and Buying Guide
Carpet Guide Pad Installation Best Stores
---
Alan Fletcher - Carpet Expert / Consumer Advocate - I do not sell or install carpet.
How to Select the Right Grade of Carpet
Best Carpet
Near Me?

Sixty years ago, virtually all carpet was made to last a lifetime if cared for properly.
Not anymore! Today you must choose a carpet that is designed to meet or exceed your needs, goals and lifestyle.
The last thing you want is to end up with a carpet that wears out way faster than you expect!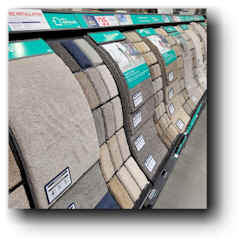 During the 1950's and 60's, most residential carpets were made from Nylon.
There were basically three grades of nylon carpet to choose from, good, better, and best.
The lowest grade carpet was designed to last 10-15 years or more before it would show any signs of wearing out.
Medium and higher grades could easily last 20 to 30 years or more, even in heavy traffic applications!
Many of these vintage carpets are still in use today in homes all across America, and many still look pretty darn good! Occasionally, we still see heavy gauge nylon carpets in homes that were originally installed in the 1950's and 1960's.
Back then, carpets were mainly made with a thick Nylon strand. It was not very soft, but it was extremely durable. All homeowners had to do was give the carpet a good steam cleaning every few years and it would look almost like-new again, decade after decade.
Soft Carpet Fibers
Today everyone wants their carpet to feel super soft, but that means making the fiber strand thinner. That compromises durability and resiliency. Softer carpets made today are more easily damaged by abrasion and are more prone to matting and crushing of the pile.
Today, like everything else we buy, carpets are not made nearly as durable as they once were. Carpet manufacturers cut corners wherever they can to save money and offer a variety of different grades of carpet for virtually every type of application.
Carpet manufacturers today make at least 12 basic grades of carpet to choose from. The trick for homeowners is knowing which grade of carpet to buy that is designed to meet or exceed their expectations and still be affordable.
Residential Carpet Grades Explained:
1. Low-end Grades of Carpet
There are at least 3 grades of low-end carpets designed for apartments and rental property and is typically called "builder-grade" or "apartment-grade" carpet.
These low-cost carpets are only designed to last 3 to 5 years at best. The face weights are generally 22 ounces to 28 ounces. Prices range from $10 - $15 per square yard for the carpet only.
(If you are a landlord with apartments or a rental property owner or manager, visit my Landlord website. It is designed to help rental property owners save big-money on carpet and vinyl flooring replacement and repair costs.)
2. Medium Grades of Carpet
There are at least 6 medium-grade carpets for those who want a carpet to last for 6 to 12 years. Face-weights range from 30 to 40 ounces. Prices range $18 to $30 per yard for the carpet only.
The fiber, pile height, tuft twist and pile density are the main four factors that determine how long the carpet will last and prices increase accordingly. What makes one carpet better than another?
3. High-end Carpet Grades
There are at least 6 high-end grades of carpet for those who want their carpet to last 12-20 years or more and are willing to pay dearly for it. Face-weights range from 40 to 80 ounces.
Prices range from $35 to $85 and up for the carpet only. Wool Carpets are most costly, usually well over $100 per square yard.
Higher Grades of Carpet Provide...
The Best Quality Fibers
Stainmaster Nylon 6.6 or Anso Nylon 6.0. These fibers are both made very well, easy to clean, more resilient, resist fading, better color choices, more durable, more styles to choose from, etc.
A Better Backing System
The backing will have a tighter weave and heavier construction, better materials and is more durable. This also helps prevent wrinkling and delaminating.
Increased Pile Density
Higher density carpets can tolerate higher traffic applications and and increased ease of cleaning.
Higher Tuft-Twist
Higher tuft-twists make carpets retain their like-new appearance longer.
Higher Cost
$45 to $85 per square yard for carpet only. Pad and install is extra. Expect to pay more for installation as higher quality carpets are usually much heavier and more difficult to install.
I've just mentioned 12 different grades of carpet to make it easy to understand. But in reality, there are dozens of varying grades of carpet to choose from, all at varying prices and warranty levels. A higher price does not always mean it is a better or longer lasting carpet.
Carpet Durability
Three carpet specification facts to consider:
1. Carpets with a pile-height over 3/4" are more prone to matting.
2. Carpets with a higher Pile-Density rating are more durable.
3. Face-weights over 60 ounces are not always more durable.
Check out my free Carpet Durability Guide to get a better idea about how to compare carpet specifications and understand what makes one carpet more durable than another. Learn more about Carpet Fibers
The Carpet Professor Says....
Choosing the wrong grade of carpet is one of the biggest and most common mistakes homeowners make.
Why? Because the carpet you buy MUST meet or exceed your needs and goals or you will not get the long-term results that you desire. Why spend thousands on new carpet that won't last as long as you anticipate?
1. How long do you want your new carpet to last?
2. What is your level of foot-traffic in your home?
These are 2 key questions that you need to consider and answer carefully. Then you can discover the answer this question: What Grade of Carpet Should I Buy?