How To Find
A Qualified Independent
Carpet Installer
Local Carpet Retailers Provide Installation
Most local Carpet Retailers make it easy for you to get your new carpet installed. You simply buy new carpet and padding and the installation is automatically provided by their in-house carpet installation crews as part of the package deal.
You pay the retailer for the carpet, padding and installation as part of a package deal, but you have no say as to who will be installing your carpet. This is why you need to buy from an honest and reputable carpet store.
The greatest benefit for you is that locally owned carpet retailers stand behind the installation, and if you ever have an installation problem, they will answer your call and do whatever it takes to make sure all your concerns are addressed.
"You don't need to ask 10 questions when the installers are provided as part of a package deal by the carpet retailer. It is the retailer's job to make sure the installers they provide are qualified and licensed accordingly."
If You Need To Hire An Independent Carpet Installer
If you buy carpet from another source, and need to hire an independent carpet installer...
The most qualified independent Carpet Installers rarely need to advertise to find work because of their good reputation. Finding a qualified independent Carpet installer takes time and patience.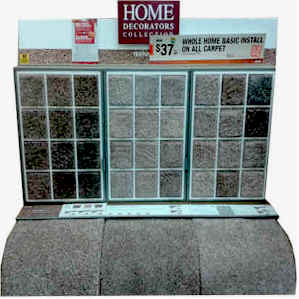 Finding a top-notch carpet installer can be difficult and getting your carpet installed quickly may be next to impossible as the best installers are booked up weeks in advance.
For this reason, you would be wise to start your search for a qualified independent carpet installer well in advance and before you place your order for new carpet.
The best way to find a qualified independent carpet installer is by word of mouth. Asking your friends, relatives and co-workers may yield some positive results, but you still need to ask the 10 questions I provide in this article.
Carpet retailers are usually reluctant to give out carpet installer recommendations because they prefer to keep their best in-house installers all to themselves. You can call around to see if any carpet store has any suggestion for you, but you still need to be careful and make sure the installer has the right experience for your type of carpet installation job.
Always check references and verify required licensing with the state. Learn how to How to Verify a Contractor's License.
For hiring independent carpet and flooring installers:
10 Questions to Ask
Every Carpet Installer (PDF)
(Click on image to view full size or print)
Where to Find a Qualified Carpet Installers?
You can also call local carpet installation supply companies to get a recommendation for a good installer. These companies provide all the products that carpet installers need including tools, seam tape, tackless strips, transition metals and adhesives.
The people working in the warehouse know which installers are active and use quality supplies. Often they have a corkboard on the wall where installers can place their business cards.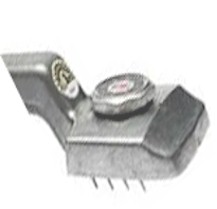 A Google search for a Carpet Sundries business near you will show businesses that you can call to ask about a carpet installer recommendation.
You could also visit one of these businesses early in the morning, before 8 am and speak directly with installers who are picking up supplies for their day. Here in Portland Oregon, I got most of my supplies from T & A Supply.
Carpet Installation Warranties
Many carpet stores offer a installation warranty of more than one year. Some even offer a lifetime carpet installation warranty. The typical carpet installation warranty provided by independent carpet installers is one year.
If you hire an independent carpet installer and have an installation problem you would have to contact the installer directly.
In most cases this is not a problem and the installer will come back and fix any concerns you may have. If you do have a installation concern, act fast... before the installation warranty expires. If installed wrong, your new carpet could lose more than half of its intended lifespan!
Finding the right Installer is Challenging
If you hire an inexperienced installer you may save some money, but may not be happy with the final outcome.
The best carpet installers usually charge a little more and are often very busy, but is well worth the cost and the wait if you want to get top-notch installation!
Some carpet installation jobs are more difficult than others and require that you hire a well experienced installer. For example, installing expensive carpet in a custom home requires much more expertise than does installing apartment-grade carpet in a rental unit.
Of course everyone wants their carpet installed correctly, and hiring an installer with minimum of 5 years experience is where I would draw the line with a simple installation job.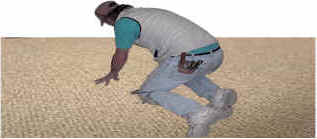 So, if you buy a more expensive carpet or your carpet job is quite large, more difficult or tricky, than you should find a carpet installer with more years of experience.
I personally believe that it takes at least 10 years before any flooring installer can truly begin to master their trade, and that's only if they have the desire to become the best of the best, like I did.
Unfortunately, many carpet installers NEVER become anything more than a poor-quality installer because they either lack the formal training, or don't have the ambition to become a master of their trade. They might just prefer to install low-quality products and make just enough money to get by.
These are not the type of installers you want to hire because you cannot depend on them to do a good job or show up on time. That's why some folks refer to them as fly-by-night installers. They prefer to work "under the table" to be paid in cash and may offer you a discount if you do.
Bear in mind, if you pay in cash and don't get a written receipt with their name and state issued contractor license information, then they may not be willing to stand behind their workmanship.
Without a valid state issued contractor's license, you will not have any recourse if they leave town, retire, become incarcerated or cannot be contacted if you have an installation problem.
If you have a problem with your installation it may be hard to get them to come back to fix the problem. Incompetent carpet installers usually are easy to spot. Here are some of the tell-tale signs of a less-experienced carpet installer.
1. They advertise on Craigslist or the local Thrifty Nickel Newspaper,
2. They typically have an older pickup truck or van with stuff piled up on the dashboard,
3. They have a wife or girlfriend that does the driving,
4. They wear battered and mis-matched clothing,
5. They wreak of stale beer and cigarettes.
Another little-known factor that should be considered when looking for an experienced and reliable carpet installer.
An important question you need the answer to is "What type of experience does this Carpet Installer have?" Here is what I mean:
Some carpet installers can charge more because they are more experienced in doing custom homes and commercial work. Some charge less because they are used to doing rentals or property management work. (apartments and rental homes).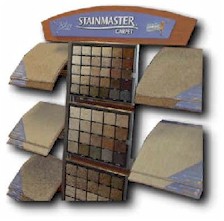 You need to determine what level of expertise your job requires and then hire an installer according to their level of expertise and standard pay rate to match your job requirements.
If you are just carpeting one or two rooms with an inexpensive carpet, you don't need to hire the best and most expensive carpet installer in town.
Carpeting your whole house with expensive carpet and having a challenging layout would demand hiring the absolute best carpet installer you can find.
Learn more about Carpet Installation Cost
4 Levels of Installer Experience:
1. Property Management Carpet Installer
The experience level of this type of carpet installer is obtained from installing low to medium grades of carpet in unoccupied apartments or rental property. They have limited experience with installing carpet on stairs, and limited experience with difficult or tricky installations.
They generally use lower quality installation products (glues, seam tape, tack-less strips, transition metals) in order to save money.
They charge less per yard because the job is less demanding and they are able to install more yards in a day.
Installers who do apartment or property management work are generally paid the least amount per yard of all installers.
Property owners and managers often do not thoroughly inspect the quality of work performed by installers doing apartment work because the carpet being installed is usually designed to last less than 5 years.
Many young people have become carpet installers as a result of being hired as a carpet layers helper and few are formally trained or have completed an apprentice program.
This is not to say that you should not hire them, but you need to be aware that many may lack the experience to perform all types of carpet installations.
2. New Construction Carpet Installer
Installers with the bulk of their trade experience from new home construction will have increased knowledge of installing different types of stairs. (carpet can be very difficult to install on some types of stairs)
They will have more experience working with various styles, types and grades of carpet as well.
They always have to satisfy the builder and the new homeowners with their performance, which makes them pay closer attention to detail.
Builders usually pay less than the standard rate for this type of installer but there is usually a greater volume of work available to the installer.
3. Residential Remodeling Carpet Installer
They show up on time, have a newer vehicle and are neatly dressed. They look professional and they have good answers to all your carpet questions and concerns.
They install carpet and flooring in nice homes and condos and may even do commercial work.
These installers are well seasoned and are paid quite well. They do a great job for residential remodeling applications, but they command higher than normal fees and are booked weeks in advance.
Be prepared to pay above the going rate for this type of carpet installer in your area, but also expect the job to be done right the first time.
They are always licensed, bonded and insured.
4. Custom Homes Carpet Installer
These Carpet Installers are the most experienced and professional installers and as such are paid the highest fees. They do installs in the most expensive homes.
They are usually booked months in advance with custom home builders and million dollar realtors, and may not be willing to take on a smaller project.
They can be quite picky about the jobs they accept. Their installation fees can be quite high, but you should expect installation perfection!
They are always licensed, bonded and insured, and carry a Worker's Compensation Policy for their employees.
If you are able to schedule them, you will receive first-class carpet installation and the absolute best customer service.
Be prepared to wait several weeks before they are available to install your new carpet.
Think their prices are high? Wait till you see the price of hiring a lousy carpet installer!
Learn more about free or low-cost Whole-House Carpet Installation Advertised Specials from Home Depot or Lowe's.
Certified Flooring Installers?
You can also visit the CFI website to locate a qualified carpet installer near you. If you like the installer and he is available at a fair price, perhaps you might hire them to measure and install your carpet?
10 Questions to Ask
Any Carpet Installer (PDF)
(Click on image to view full size or print)
Next up: Carpet Installation Cost
Key To Carpet Success
Not only must you hire a qualified carpet installer, you must also choose the right grade of carpet and padding too. Just as important is making sure you buy from an honest and reputable carpet and flooring dealer. That's how to buy new carpet like a pro! See who I recommend near you.