After 30+ years in the business, I'm sharing my knowledge and experience with homeowners who want to choose wisely, avoid scams and get qualified installs from a reputable dealer.
"How To Choose New Flooring Like A Pro"
Carpet | Pad | Installation | LVP | Forms | Best Dealers
---

Best
Carpet
Stores
Near
Me?

Free Carpet Installation Lowe's Home Depot
Is Free Carpet Installation at Lowe's and Home Depot a Good Deal?
Even though they have some amazing TV commercials for carpet and flooring, I never recommend buying New Carpet from any big box store or home improvement warehouse.
I shop at home improvement warehouses and Big Box stores. They have a good selection, have reasonable prices and it's convenient to have so many items available in one location.
But I would never buy Carpet at Home Depot or Lowe's because there are just too many things that can go wrong. I want to buy from a carpet store who provides first-class customer service before, during and after the sale.
Carpet Installation Cost?
There is enough profit to be made selling new carpet and padding that Big Box stores can offer you discounted carpet installation for $99 or less or even free!
They increase their profits by charging you extra for any and all other basic necessities your carpet job requires.
Why do you suppose Home Depot and Lowe's offer free carpet installation to homeowners? They know how to increase their profits by charging you more for the extra things your job may require.
Back in the early 90's... Home Depot and Lowe's used to hire carpet installers and pay them directly, but very few experienced installers would ever apply or stick around for long.
Sadly, the installers they did hire often did more damage than good. Most of the good installers didn't stay more than a week or two before they moved on to something better and higher paying, like I did.
I did a few installation jobs for Home Depot and I can tell you first-hand they were very unorganized.
Rolls of carpet were often delivered to the wrong store. Carpet to be installed that day was often buried behind and underneath mountains of boxes, appliances and pallets of other incoming products.
It could take hours to find and uncover the correct roll of carpet and get loaded up for the job of the day.
Employees knew nothing about the scheduled installation jobs or where the carpet and padding was located.
Many of the installation jobs had to be rescheduled because they either could not find the roll of carpet or the carpet had not been delivered to the store on time.
Homeowners were always the last to know of any job delay or cancellation because nobody from the store kept them informed or updated. There were some real angry homeowners.
Independent Carpet Installers
The last time I checked, both Lowe's and Home Depot farm-out all their carpet installations to privately held flooring installation companies.
These installation companies hire just about anyone who has a license, carpet tools and a truck.
Experience required? Nope, they just send newly hired installers out on a job to see how well they do. If nobody complains about their work, they keep on using them.
Who will they will be sending to install your new carpet?
The private installation companies they now use remind me of those temporary employment agencies who hire just about anyone with a heartbeat and then take a portion of their hourly pay.
You will have no idea if the installer assigned to do your job is reliable, qualified or experienced. Is Your Carpet Installer Qualified?
If this doesn't make you a little bit concerned, I don't know what else to say. This means that you have no way of knowing in advance who is going to install your carpet until they show up at your door with your new carpet hanging out the back end of their truck.
Questions To Ponder...
Who is working in my home? Are they trustworthy?

Are they well established in the community?

Are they qualified to install my carpet? Will they do a good job?

Do they have a valid state issued Contractor's License?

Are they Bonded and Business Liability Insurance?
What If My Carpet Is Installed Wrong? Who Should I Call?
Will anyone accept responsibility and resolve your complaint?

Can you get a quick remedy without weeks of calling with no response?

What if the installer disappears or moves away?
I've heard from many homeowners who ended up with a poor installation job. I've listened to their horror stories about the runaround they got when calling the big box store to try to get someone to listen and be helpful. You don't want this to happen to you.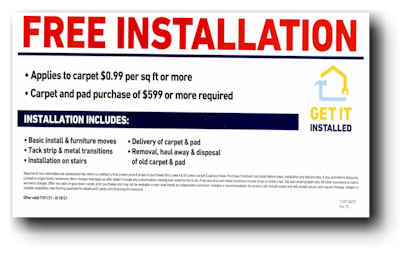 If you have a problem with your carpet or installation you need to be able to get a quick remedy.
But if you only pay $37 (or free) for carpet installation and you are not satisfied with the final outcome, will you just get a $37 refund? That's how much you paid for the installation, right?
Lately I've seen television commercials that offer free whole-house carpet installation! Let me ask you... have you ever heard the old saying "If it sounds too good to be true?"
What you finally end up paying for carpet, padding and installation may be way more than you bargained for!
Common Carpet Sales Gimmicks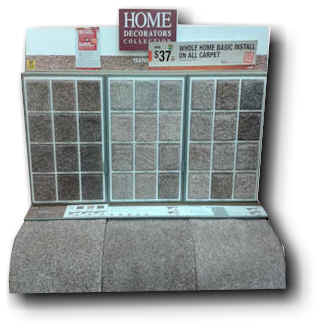 Many new carpet sales gimmicks have been offered up lately by the big box warehouses and some nationally advertised "shop at home" flooring retailers.
Their claim of deep discounts on carpet or installation are designed to lure you into thinking you have a chance at getting a really good deal.
No matter what their current sales gimmick is, their goal is to make you think they are giving away the farm.
Have you watched those quirky TV commercials by Empire Today that offer incredible deals and next day installation?
Did you know that their salespeople are independent contractors? They are paid solely on commission and are basically free to charge you as much as they think they can get away with.
That means if you live in a nice home and have an expensive car in the driveway, you might be quoted a higher price.
Even if you are tempted to buy from a big box retailer like Home Depot or Lowe's, you would be wise to get several bids to compare prices on similar carpet, pad and installation.
There is no standard markup for carpet and pad. An identical carpet can vary in price widely at every carpet store you visit. Any dealer can price their carpet, materials and labor any way they want.
Qualified Carpet Installers
I truly respect well-trained carpet and flooring installers who work hard, are honest and have integrity.
Installers earn their money by providing an honest days work requiring strenuous physical demands and follow strict legal state licensing and insurance regulations.
Installing carpet or other residential or commercial flooring is very difficult, time consuming and requires many years of training and attention to detail.
Personally, I think flooring installers are underpaid and often wrongly blamed and held financially responsible for carpet problems that are beyond their control.
It's just too easy for unscrupulous carpet retailers and carpet manufacturers to point the finger at the installer when in fact, the blame lies elsewhere.
Recent Email From a Homeowner:
"I just had (a home improvement warehouse) give me a measure and quote for new carpet. The basic installation is $99, then it is an additional $195 for tack strips, and an additional $85 because it is a mobile home.
I've called other carpet installers and they charge less for padding ($3 vs. $5.65) and more for installation ($4/yard), and it will still cost me $250 less than the home improvement warehouse price!"
What is "Basic" Installation?
Does the basic price include removing the old carpet and padding? dump fees? haul away fees, recycling charges? What about transitions, are they included? Nope, and the list is long.
Free Carpet Measuring?
Big Box retailers may charge between $75 to $125 for measuring but say they will refund the fee if you agree to buy new carpet and padding from them. Measuring should be a free service and not an extra fee.
Why Pay For Measuring?
I would never pay a dime for measuring because there are plenty of locally-owned and reputable carpet dealers who offer free estimates and in-home measuring.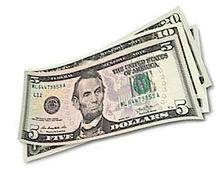 Extra for measuring, extra for delivery of the carpet, extra for removing the old carpet and pad, dump fees, extra for stairs, extra for doorway transitions, extra for replacing or repairing tackless strips, extra for just about everything.
Isn't is obvious to you at this point that they hide the added cost of a low-cost installation by charging extra for every little thing AND inflating the price of the carpet and pad too?
Do you know how much they mark-up their carpet and pad? There is more profit in carpet than you might think. And don't forget, they want you to pay for your carpet, pad and installation in advance upfront, and in full!
The Average Cost for Carpet Installation?
It's about $6 per yard on average. It's higher in the northern states and on the west coast like California, Oregon and Washington state. Installation prices are on the rise due to inflation and fuel costs.
There is almost always an extra fee for stairs, furniture moving and transitions where the carpet meets vinyl or hardwood flooring. They have a long list of fees for services that do not fall under their "basic" installation description. Carpet Installation Cost Fees Charges
Some homeowners are very happy with their flooring purchase from a big box retailer. Not every homeowner has bad things to say about their carpet buying experiences with Lowe's, home Depot or Costco. But a lot of homeowners are not happy and have something to say.
You Only Recommend Locally-Owned Carpet Stores?
That's right! Some carpet installation specials are a really good deal for consumers, especially those offered by well established locally-owned and family-run carpet retailers.
Reputable carpet retailers may advertise discounts on carpet, padding or specials on installation similar to the big box stores, but without all the fine print!
To earn your business many local flooring retailers have to compete with the deep pockets of the big box retail stores.
When it comes to first-class customer service, local carpet stores have the box stores beat! You still should be careful who you buy from, as it's easy to fall prey to sneaky retail carpet scams.
This is just another reason why I have been compiling my own special list of honest reputable, locally-owned carpet stores to recommend to my readers. Take a peek, maybe I've already found a reliable carpet store near you.
I Support Local Businesses!
I hope you buy new carpet from a reputable locally-owned carpet retailer. They have your complete satisfaction in mind and will treat you right from to start to finish! Buying locally also helps support your community, schools, roads and your neighbors too.
Learn More: