How To Choose New Flooring Like A Pro!
Carpet | Vinyl Tile & Plank | Hardwood | Local Stores
---
(Free Information by Consumer Advocate - No Flooring Sales)

Best
Carpet
Stores
Near
Me?

Carpet Installation Get-Ready Checklist
What To Do

Before, During & After Having New Carpet Installed!

Many homeowners unknowingly make simple but Costly Mistakes when buying and selecting new carpet. To make sure you make wise and informed choices, I have put together a simple Carpet Installation Checklist to help you be prepared and bypass some of the potential difficulties that you might encounter when having new carpet installed in your home.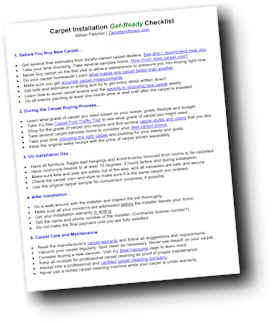 Print My Free Carpet Installation Get-Ready Checklist (pdf)
I designed this checklist to help homeowners avoid common and costly pitfalls and help make sure that choosing new carpet is less confusing, simplified and stress-free. I want to help you enjoy your carpet buying experience from start to finish!
Buying new carpet can be quite confusing and it takes a lot of time and energy to choose the right carpet that is capable of meeting all your needs and goals. The more you learn about how to choose new carpet, the happier you will be with your new carpet for many years to come.
My website is totally free for all homeowners so take your time and read through my entire website. Take advantage of all my insider secrets, especially about "how to choose the right grade of carpet" and "how to select the correct padding" and make sure you get qualified installation too... All at a fair & square price!
Carpet Installation Checklist
What to Do Before

You Buy New Carpet...
What to Do During The Carpet Buying Process...
Shop for the grade of carpet you require first, then find several carpet styles and colors you like.

Take several carpet samples home to consider your Best Carpet Choice

Get several estimates from locally-owned carpet dealers (See who I recommend near you)

Get several bids/estimates in writing and get every detail written down IN WRITING!

Ask your salesperson for a spec sheet on any carpet you are seriously interested in buying!

Don't be pressured into buying or agree to buy on the first visit. (in-home or in-store)
Take your time choosing New Carpet
If you can... Keep the original carpet sample you selected and ordered from, until after your new carpet has been installed, use for comparison purposes. Many homeowners often forget exactly which carpet style and color they ordered, especially when it takes several weeks for the carpet to be delivered and scheduled to be installed. This is not always possible when dealing with smaller retailers. They may not be able to leave the carpet sample with you for an extended period of time.
If you are unable to retain the carpet sample, then make sure you write down the brand, style number and color number for future reference.

Take a photo of the back of the carpet sample showing all the manufacturing details.
Ask These Key Carpet Buying Questions... Before you sign off for new carpet!
You always have the right to know the name of everyone who is working in your home.

Write down the full name and phone number of the installer and the names of all his helpers.

Ask for his State Issued Contractor's License Number (if required in your State)

Ask to provide a Surety Bond and Business Liability Insurance. Confirm it!

If your Carpet Dealer is providing carpet installation services for you, as part of a package deal, your Carpet dealer is responsible to make sure the installer they provide is well-qualified and has all his legal and licensing affairs in order.
If the installer is provided by the carpet retailer as as part of a package deal (carpet, pad and installation), then the carpet retailer is responsible for ensuring the installer is compliant with state and local requirements for licensing and worker's compensation coverage.
If you hire an installer yourself and pay them directly, you have the right to ask your independent installer for an Insurance Rider to be issued in your name and mailed or faxed to you prior to having any work performed in your home.
Discuss this with your carpet retailer prior to ordering your new carpet. This can provide you with added protection in some circumstances. Seek professional advice from an attorney if you need more information.

If your independent installer has helpers, ask to see his Worker's Compensation Policy Rider that lists all the names of his helpers. Check the policy dates carefully to make sure they are current and all premiums have been paid.
What To Do On and Before "Carpet Installation Day"...
When the installers arrive, check the carpet color and style to make sure it is what you ordered.

Have furniture, wall pictures and knick-knacks removed from all rooms and areas to be carpeted.
Make sure all valuables are put away safe and secure.
Have all rooms pre-heated to at least 70 degrees, 3 hours before and all during installation.

Make sure kids and pets are safely out of the way in all areas to be carpeted.

Never allow children or pets to roam free during installation.
What to know and do "After The Carpet Is installed"...
Do a walk-around with the installer and inspect the job thoroughly.

Make sure all your questions and concerns are addressed before the installer leaves your home.
Get your New Carpet Installation Warranty in writing.
Obtain a copy of the New Carpet Warranty and Read it.

Do not make the final payment until you are completely satisfied with the completed job.
Proper New CARPET Care and Carpet Maintenance...
Read more about manufacturers New Carpet Warranties - Why do you need follow all their suggestions and requirements? Basic warranty information and consumer guide.

Vacuum your carpet regularly. Spot clean as necessary.

Never use bleach on your carpet unless it is recommended in your new carpet warranty.
Consider Buying a New Vacuum
Frequent vacuuming is the only way to remove the grit, dirt and debris that causes abrasion. Many warranty claims are denied because the consumer used the wrong vacuum. Don't spend a small fortune on new carpet only to have it wear out super-fast from abrasion.
What is Abrasion? Embedded dirt, grit and grime causes irreparable damage to carpet fibers. Abrasion from Grit is the main reason why carpet surface fibers lose their shine and why the entire carpet begins to look worn out.

Some carpet styles require a "suction only" canister type of vacuum. Berber styles and cut and loop styles often fall into this category. This means not using a vacuum with a rotating Beater Bar. (Some upright vacuums have a way to temporarily disable the beater bar) Beater Bars may cause the carpet fibers twisted in a loop to fray.
The warranty claim may be denied because the homeowner's vacuum was not powerful enough or was not properly maintained. Abrasion is the leading cause of damage to the carpet fibers. Some warranties are denied because the vacuum used was too powerful. What does your new carpet warranty say about vacuums?
Visit my Best Vacuums page to learn more. Keep all receipts for professional carpet cleanings, as they are required as proof of proper maintenance if you ever need to file a Carpet Warranty claim.

Always hire a professional certified carpet cleaning company.

Never use a store-rented carpet cleaning machine to clean your carpets, especially while your new carpet is covered by a manufactures warranty. How often should I have my carpets cleaned?
Important Carpet Warranty Information:
Be sure to ask your carpet retailer to itemize your original sales receipt showing the (price per square foot) for the carpet separate from the price of the padding and installation. Keep your original carpet sales receipt forever. Why? If you ever need file a warranty claim the manufacturer will want to see your original sales receipt. If your carpet is found to be defective for any reason they need to know exactly how much you paid for the carpet only, in order to compensate you accurately.
If you need to hire an independent CARPET installer... Read This Article