How To Choose New Flooring Like A Pro!
Carpet | Vinyl Tile & Plank | Hardwood | Local Stores
---
(Free Information by Consumer Advocate - No Flooring Sales)
Top 100 Carpet Questions & Answers 2
Q. Best Carpet Choices for Basements? I am having trouble choosing from ALL the different suggestions for carpet for my 600 sf basement. It is a dry basement except for one drain on the floor near the washer that spills out a little, this area is not going to be carpeted. We have no kids and only 2 cats that rarely go down there.
I found a great Berber carpet through a manufacturer on eBay for $7 sq./yd, but after reading your Q & A was scared away from both eBay and Berber. This is an entertaining basement with a built-in bar, pool table and entertainment area. Can you simplify my search to 1 or 2 specific budget friendly recommendations?
Carpet Professor's Answer:
If your basement is dry you can select any style you wish, I would suggest you consider a level loop commercial style carpet as they are inexpensive, can be installed with or without padding, easy to clean and last a long time. If you want something more plush and want to save money then consider go with an apartment grade, nylon plush style. You could go this route and only spend about $12-15 per yard total - carpet, pad and installation.
Learn more about Carpet Comparison
Berber Carpet for Stairs, Upstairs Bedrooms and a Large Dog?
I just bought a brand new house and I am doing quite a few upgrades. I was wondering should I upgrade my carpet to Berber? Which is about another $3000. Is it worth it or should I just go with what the contractor going to install? Is Berber carpet last longer than any other carpet? The only carpeted area I have is upstairs, in mostly the bedrooms and stairs. There will only be 2 people living there and we tend not to make a lot of mess, but I do have quite a few guests over throughout the year. In addition, I have a dog (lab) but I am going to try not to let her go upstairs. I appreciate for any suggestion you can recommend.
Carpet Professor's Answer:
When you have a new house built the builder always gives you the option of upgrading the carpet. Unfortunately the builder usually gets a sizeable kickback from the flooring dealer he suggests for whatever upgrades you choose. That means you end up paying way too much for the skimpy upgrade you end up with.
My advice is to go with the basic builder grade (plush-style nylon) carpet and skip doing the upgrade for a couple of years. Then you'll have time to save up a few more dollars to be able to buy the grade of carpet you really want from a reputable carpet dealer. Forget going with a low-cost looped-Berber style as it will not tolerate heavy traffic and can snag easily from your large dog's nails.
Should I Use a Felt Carpet Padding for My Basement?
I just purchased a Berber by Mohawk a tight loop. I am installing this on a concrete floor and the salesman said that a 40 oz felt pad would be good (I don't know how this translates into the weights you gave for cubic feet) He mentioned it was a 1/2 inch but shouldn't be a problem. (I had read your site about 3/8 max for Berber) He said that the density of felt versus the thickness of Rebond would not damage the carpet. Do you agree? It is not being installed for another 2 weeks so I have time to change my mind. BTW the salesman was very nice no pressure at all it was my idea to go for a "softer "feel Awaiting your reply.
Carpet Professor's Answer:
A felt pad would work fine, but has no sponginess at all. Felt pad is also known as wool pad and can be quite costly. A 1/4 to 3/8 inch thick, 8 pound density, Rebond type pad would be less expensive and provide a little "give" underfoot. Either pad would be acceptable but dollar for dollar Rebond padding is what I would choose. If you have any moisture problems in your basement whatsoever, then I would choose a 1/4" synthetic fiber pad instead as it has inherent anti-microbial properties.
Make sure to follow the manufacturer's padding requirements to ensure your warranty won't be compromised. I suggest you do a moisture test to make sure you don't have any hidden moisture problems.
Where Can I Buy New Carpet Wholesale?
I am thinking about buying our carpet thru one of the many carpet mills located in Georgia at wholesale prices. What is you personal opinion on this. Is this a smart thing to do?
Carpet Professor's Answer:
I never suggest buying carpet online or through an 800 number. There are just too many ways to get ripped off or make costly mistakes. If you live close to Georgia and want to make the trip to buy from a wholesale outlet store then do. Just be sure you know exactly how much carpet you need, and exactly what it is you want to buy before going. Learn more about buying new carpet wholesale
The Best and Worst Places to Buy New Carpet
Also, finding a qualified installer can be tricky. Be sure to check references and verify his license, bond and liability insurance if required in your state. Learn more about How to find a qualified carpet installer.
What is the Best Cat-Resistant Carpet?
I'm so happy to find your website -- I need good advice! I'm in the process of buying a condo and just recently learned that the condo association requires that you keep wall-to-wall carpeting in the units. I had planned on refinishing the parquet floors underneath, but will now have to replace the carpet instead.
I have two cats, and I know from experience that they tend to scratch carpets and occasionally have accidents on them. So, I'm trying to search for the most stain resistant and scratch resistant carpet I can find. The frieze style seems like a good bet because I've heard that cats prefer to scratch on plush carpets more. It also seems like a frieze, since it doesn't have loops, would be less likely to show the effects of scratching. Do you agree? What styles or brands would you recommend?
Carpet Professor's Answer:
A plush or frieze would be fine in your situation. Looped styles are magnets for cats to scratch on, and should be avoided. You could choose a nylon fiber more the best durability or you might consider going with Sorona, (Smartstrand by Mohawk) as they say it is the most stain resistant carpet fiber. Learn more about Carpet Fibers
Is Thicker Carpet Padding Better?
I am building a new house and desire a 5/8-inch carpet pad. I know the drawbacks i.e. lady could put a high heel through, void the carpet warranty etc; however I really want this pad in a particular room. Where can I purchase this pad?
Carpet Professor's Answer:
You will need to buy this type of Rebond, foam or urethane padding either from a local pad distributor or a carpet supplies/sundries outlet. You might need to special order it because there is not much call for a padding of that thickness. Bear in mind that you will likely void your new carpet warranty if you choose a padding that is not recommended by the carpet manufacturer. Your carpet will more prone to develop wrinkles over time with a thicker padding too.
Is it a Bad Berber Seam or a Defective Carpet?
My question is, recently I had Berber carpet installed and it is a lighter color. I'm noticing in one area there is a definite seam line, visible in some spots and then again not visible in other spots. Of course right in the middle of the living room it is noticeable and not closer to the wall. I tried cleaning it but that doesn't help. My friend said it is the carpet seam tape and to leave it alone or I'll loosen the seam. Is there any way to clean or get rid of this without damaging the carpet? It seems to be getting more noticeable as time goes by. The people who installed it also tried to get rid of it, but to no avail. What might be the secret?
Carpet Professor's Answer:
From what you have described in your e-mail, this sounds like a carpet color-shading problem. If you really want to have it fixed, you should make it clear to the carpet store owner/manager that you expect them to fix the problem, even if that means that they have to replace all the carpet in the affected areas.
Carpet shading problems are caused when the color dyes are unevenly applied to the carpet fibers and thus cause a color variance either from one side to the opposite side or from the front of the roll to the end of the roll of the carpet. When this happens, carpet seams may be very noticeable. On each side of a seam, you may see two different shades, one lighter one darker. This color shading effect could also be caused if the installer turned the carpet the wrong way. Carpet has a definite direction and flow and this must be maintained throughout the installation process. If this is the case it is the installer's responsibility to fix it.
Assuming that it was installed correctly, carpet-shading problems are not uncommon and it is not a problem that you should be forced to accept and live with, unless you want to. The store may be willing to offer you a settlement in lieu of replacement if the carpet was purchased from their "in-stock" carpet. Otherwise, if you ordered from a sample and the carpet was shipped directly from the carpet mill, then the carpet must be inspected by the carpet mill representative and then ultimately replaced by the manufacturer without any additional charge to you whatsoever. This process can take weeks to resolve so be patient. Stand your ground until you are completely satisfied. Learn more about Carpet Comparison
Can I Select Different Carpet Styles and Colors for My Home?
Should I use the same type, style and color of carpet throughout my whole house? For bedrooms, halls, or would it be smarter to use the exact same carpet style and color in every room?
Carpet Professor's Answer:
Using the same carpet color throughout your home is a smart move if you plan to sell your home soon. Potential homebuyers may want to have the carpets match their furniture and decor and having too many colors and style my be a turn-off to potential buyers or make them consider the added cost of carpet replacement. However, if you plan to stay in your home for the next 7 to 12 years or more, then choose carpet styles and colors that make you happy!
What is Carpet Fiber Face-Weight?
I found your website very informative. We are looking to install frieze carpet. We have one small dog and an 18-month old daughter. We are confused by all of the different weights of carpet and pad. What weights would you recommend? How Many Ounces?

Carpet Professor's Answer:
The above chart shows face weights in ounces for residential carpet. Your question is very important and also a huge one. There is so much more to choosing the right carpet than just weight. What does weight mean? Face weight is the amount of fiber used to make the carpet pile. A higher face weight is more desirable because it makes the carpet last longer and softer underfoot.
More about Carpet Specifications
Carpet Specifications Explained
Pile-Density is how tightly the tufts are packed together. Higher density means the carpet will be more durable and obviously more costly. A standard Pad Density of 6 to 8 pounds is what is used in most homes. The pad you select depends on what type and grade of carpet you select. There are many different types of padding for various applications.
Learn more: Selecting the Right Carpet Pad
Do I Need to Replace My Old Tackless Strips?
Q. I'm planning to hire an installer with over 10 years experience, a power-stretcher, licensed, bonded, and insured of course and am afraid to ask him whether he'd get a better job done if we were to pull up the present tack-less strips and put down new ones. I'm afraid he'll say the old ones are fine because it's a bother to install new ones - and I wouldn't know. I plan to take up the old carpet and padding (yes, I've been told getting the staples out of the padding is an eon-long, backbreaking chore) myself so that I can afford frieze that I'd like.
Is it possible that the tack-less strips in a home that is 12 years old and lived in for only 5 - by a couple - are likely fine to reuse?
Carpet Professor's Answer:
Forget removing all those staples, you don't need to! Just be sure to remove all those small bits of pad stuck around and underneath the staples. Wear an old pair of tennis shoes and use your foot to kick, rub and scrape the pad bits loose. You will never feel or notice those old staples when the new carpet is in.
As far as the tack-less, unless they have been exposed to moisture and the nails are rusty they will be just fine to reuse. Even if you find some tack-less strips that are damaged, only those that are bad should be replaced as needed. Any installer that would say it is a bother to replace bad tack-less is not worth hiring, so don't be afraid to make your wishes and concerns known upfront.
What are Carpet Tackless Strips?
(aka tack strips)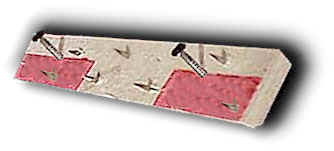 Tackless strips (often called tack strips) are wooden strips with sharp pins that are installed all around the perimeter of each room near to the walls. Tackless strips are about 1" wide and 4 feet long. These tackless strips are what hold your carpet to the floor and allow it to be stretched-in tightly to prevent wrinkles. The sharp pins hold the carpet tight because they are angled towards the wall.
They are nailed down to the floor. The carpet padding is butted up against the inner side of the strips. The carpet goes over the pad and stretched over the top of the tackless strips. Then the raw edge of the carpet is tucked into the wall and floor crevice or underneath the wall molding for a nice finished look. Learn more about Carpet Installation Cost
More Q & A...
Page 1 Page 2 Page 3 Page 4 Page 5