Free Carpet Information and Buying Guide
Carpet Guide Pad Installation Best Stores
---
Alan Fletcher - 30 Yr Carpet Expert / Consumer Advocate - I do not sell carpet.
Got Carpet Wrinkles?
Best Carpet
Near Me?

Was The Wrong

Carpet

Padding Installed?
Using the wrong padding can cause wrinkles to develop in your carpet. It is your responsibility to choose the correct carpet padding. The padding you select is entirely up to you, even if the carpet salesperson doesn't ask your opinion in the matter, you have to ask questions and be proactive!
If you agree to purchase the wrong padding, even if they told you that it was the correct padding for the carpet you chose, then YOU and only you can be held accountable for your selection.
I suggest you be proactive with the carpet and padding you decide to purchase and not rely solely on the advice of any carpet salesperson. You can always call the carpet manufacturer to get their word on what type of padding is appropriate for the particular carpet brand and style you plan to purchase.
What Type of Carpet Padding Should You Purchase?
Different carpet styles require different padding specifications to make sure your new carpet warranty stays in force. It would be wise to check with the carpet manufacturer before you make your padding selection to learn exactly what type, maximum thickness and minimum density rating they recommend.
Plush and Textured carpet styles for residential applications can have a pad up to 7/16" thickness and a density of a least 6-pound density rating. Personally I prefer at least 8-pound density to help support your carpet and help prevent wrinkles. Some carpet retailers offer a ½" padding and although it is generally thicker than suggested by carpet manufacturers, it is a common practice.
Looped Berber carpet styles require a thinner pad but a higher density rating. The usual padding is at least 8-pound density and a thickness of ¼" to 3/8" maximum.
Frieze carpet styles usually require padding with at least an 8-pound density rating.
Why Carpets Wrinkle #2
Did You Choose The Wrong Padding?
Most homeowners like their carpet to have a soft feel underfoot. This is why most residential wall to wall carpet is installed over some type of padding.
In the home, carpet padding must be selected carefully and follow the carpet manufacturer guidelines for thickness and density specifications or risk voiding the warranty and developing wrinkles. New carpet can quickly develop wrinkles if the wrong thickness or density of pad is installed. Learn More Selecting the Right Carpet Pad
Best Padding Thickness
With most residential carpets, padding should be no thicker than 7/16" although many carpet retailers commonly use ½" thickness with no problems. However, an issue may arise when you need to file a warranty claim and the manufacturer required a padding thickness lower than was used.
Best Padding Density
Padding density can be rated anywhere from 3-pound to 10-pounds. The higher the density the more support it provides underfoot and the better it is for your carpet. Most homeowners prefer padding with a 6-pound to 8-pound density.
I generally recommend using an 8-pound density padding to get the optimum level of support for your carpet and to help reduce the chances of developing wrinkles. The difference in cost for a 6-pound Rebond pad and 8-pound Rebond pad is minimal, but the benefit is significant.
Best Padding Types
There are many padding types available today and many are considered "Specialty" pads. By that I mean in certain situations your carpet or application may require that you choose a particular type of padding to help address a certain issue.
Some specialty pads have a moisture barrier or are anti-microbial, or are made from wool, felt or various recycled fabrics or other materials. Learn More Specialized Carpet Pads
Some pads are made from virgin foam and some are made from rubber. While rubber padding is usually really good, it is also really expensive. Dollar for dollar, Rebond type padding is the best value for your hard earned buck. Learn More Types of Carpet Padding
Rebond Padding (Most bang for your buck!)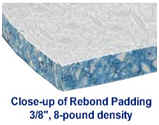 Rebond padding is a type of pad made from recycled foam and comes in various colors and surface layers. Some come with a nylon mesh on the top and some just have a thin layer of plastic to hold it together and be somewhat resistant to moisture.
In most residential applications a Rebond type of pad is a very good choice and does a good job of providing sufficient support for your new carpet. However, it is available in varying quality levels and you must choose the pad that will meet or exceed your needs and goals.
Rebond pad typically has a lifespan of 10 to 15 years depending on the grade and manufacturing specifications. Some are designed
For most homeowners who are buying a medium grade carpet, a Rebond pad, 7/16" thickness and either a 6-pound or 8-pound density will do the job.
I prefer 8-pound Rebond pad for most residential applications. It will cost $3.95 to 5.95 per square yard. (Equal to .45 cents to .66 cents per square foot)
Learn More:
Selecting the Right Carpet Padding